Post by rutee on Mar 6, 2014 21:50:31 GMT
Secret Room Guide V2
~Updated 5/13/2015... finally >.>
First things first: This is an in-depth guide for people who want everything fully explained with pictures, help navigating menus, tips, etc. If you don't need that and just want a reminder of the basics like XP, item/pg/plugin exchanges, etc, the
Secret Room page on the wiki
will be more than sufficient and much more concise.
Secret Room is awesome. It's got a big XP payoff with the chance for even bigger rewards, as well as giving you the ability to work towards some rare demons/items in a way that might be less complicated than normal. For example, I decided to get my Tokisada via SR because even if his plugin isn't too hard to obtain, his fusion is convoluted and requires a whole mess of other plugins and tri-fusions. And as a bonus, along the way I got lots of XP, gems, and some rare DCM and even a rare PG as drops! So yeah, once again: Secret Room is awesome.
HOW TO GET SECRET ROOM PASSES
Every character gets one free SR run.
Just talk to the guard NPC and he'll let you in for your sample run, even if you've already used passes on the character.
This is a SR pass:
Other than events like the log-in campaign, you earn SR passes by spending CP in what is called the "Limited Gift" program. The amount of SR passes delivered to your post each month depends on the amount of CP you spent the previous month.
SR passes are delivered three times per month, on the 1st, the 11th, and the 21st.
If you spent 500 CP, you get 30 passes (10 per payout day)
If you spent 1000 CP, you get 60 passes (20 per payout day)
If you spent 1500 CP, you get 90 passes (30 per payout day)
If you spent 2000 CP or more, you get 90 passes and 3 limited tickets (30 passes and 1 ticket per payout day)
If you spent 2500 CP or more, you get 90 passes and 6 limited tickets (30 pass and 2 tickets per payout day)
If you spent 3000 CP or more, you get 90 passes and 9 limited tickets (30 pass and 3 tickets per payout day)
This is how a Limited Ticket looks:
Limited Tickets can be exchanged for either 10 SR passes or 10 Dark Babel keys.
If you are unsure about how much you've spent, you can see which tier you're on track to receive by logging into DB-NET and clicking the "Limited Gift" (リミテッドプレゼント) option on your sidebar:
There will be a chart showing how much you've spent and what your next month's Limited Gift will be based on your current spending.
GETTING INSIDE THE SECRET ROOM
You can access the Secret Room private instance (meaning - this is a solo run! While it won't kick you out of a party, only one player can enter a secret room instance - if you try to enter together, you'll all end up in different SR instances) by speaking with the two SR guard NPCs.
One can be found in Shinjuku Babel in the corner near the North Home Point/Nakano exit:
The other is in Home III, behind the Magic Shop (guest starring Inex Angel booty).
You can enter the Secret Room freely without the SR pass buff
, which makes the trade-in NPCs accessible even if you don't have passes - this is important to remember as
you can also exchange the passes themselves for some things
(I'll explain shortly), so if that's your intent, know that you don't have to sacrifice a pass just to enter the Secret Room.
Enter the Secret Room instance by talking to this NPC and selection the first option:
STARTING THE ACTUAL RUN
However, to do a run you will need to have the Secret Room buff active on your character. To gain this buff, simply double-click your pass and your character will receive the following buff icon:
Similar to the cash shop hack runs, the buff will not disappear until you actually clear the run. So if you choose the wrong difficulty, remember that you can leave the room (via traesto or the exit NPC) and as long as you didn't kill the final enemy, the buff will remain active and usable.
This NPC will let you choose the difficulty: Beginner, Intermediate, Veteran.
Like so many other things in SMTIO, the difficulty spikes quite a bit in between each level!
Beginner: 1 Slime, 1 Gaki, 1 Will-O-Wisp, 1 Ghoul. Base XP is 1,000,000.



Intermediate: Silver Boss level versions; 2 Oberon, 2 Titania, 2 Decarabia, 2 Forneus. Base XP is 3,000,000.


Veteran: Gold Boss level versions; 2 Thor (Celu Gold version), 2 Morrigan (Quartz LB version), 2 Great Beast Cerberus, 2 Nightmare Arahabaki. Base XP is 5,000,000.
End chest rewards are the same for each difficulty
, so if you can't manage Hard, you are not missing anything but XP.
After you select the difficulty and confirm, the enemies will spawn in the center of the room.
Be aware as they can be aggressive and come seek you out; they can and will enter the area with the NPCs if you wait too long and one happens to drift close enough to notice you!
As mentioned above, your SR buff is only consumed once you've killed the last enemy and received your XP reward.
As a note, XP earned from Secret Room can be modified by gear and incense. Witness the extreme variance between the XP gain on my player character and the XP gain on Lakshmi:
LOOT & TRADE-INS
After clearing the enemies, a reward box will spawn. This box ALWAYS includes 1 Congratulation Card, 10 Jewelry Boxes, and 1 Premium Box.
Make sure that you have three open slots in your inventory, as this is one of those reward boxes that won't allow you to open it if you can't loot all the contents at once.
Once you have looted all three items, the box will turn white. Note that if you forget to loot the box and attempt to start another run, the Innocent NPC will try to warn you:
So if you get an unexpectedly long message when trying to start a new run, you've forgotten something! Beware: he WILL allow you to basically say "start anyhow and destroy my rewards" so if you click through this too quickly your box will be lost. Clicking YES destroys the loot and allows you to start a new run. Clicking NO will exit you from the dialogue and allow you to run back and grab your loot.
Congratulation Cards can be traded to one of the Innocents chilling in your Secret Room instance for many, many awesome rewards.
This is a Congratulation Card:
Here are the menus for Congratulation Card turn-in NPC.
Initial Selection:
Items Menu:
PG Menu:
Plugins Menu:
~Gold Congratulation Card Turn-Ins~
Yes, the Congratulation Cards from Dark Babel/Abyss Tower are the same thing and can be used here.
For the plugins, the list follows this pattern: Demon Name / PG Card Cost / Plugin Card Cost
For items, it's just Item Name - Card Cost.
LAW DEMONS
Inexperienced Hathor / 50 / Plugin Not Available
Girimehkala / 80 / 500
Lakshmi / 100 / 600
Gurr / 150 / 800
Mada / 400 / 110
Metatron / 700 / 1400
Vishnu / 1000 / 1800

NEUTRAL DEMONS


Accomplished Elementals (Erthys, Flamies, Aquans, Aeros) / 30 / Plugin Not Available
Accomplished Unicorn / 30 / Plugin Not Available
Lucky Pixie / 50 / Plugin Not Available
Inexperienced Mothman / 50 / Plugin Not Available
Inexperienced Succubus / 50 / Plugin Not Available
Little Devil Lilim / 60 / 400
Frost Ace / 60 / 400
Alice / 80 / 550
Yurlungur / 100 / 600
Matador / 130 / 700
Tokisada / 150 / 800
Hell Biker / 160 / 850
White Rider / 170 / 860
Red Rider / 180 / 870
Black Rider / 190 / 880
Pale Rider / 250 / 950
Yamatano-Orochi / 300 / 1000
Jeanne D'Arc / 400 / 1100
Yoshitsune / 400 / 1100
Seven Stars of Death Beiji Weng / 500 / 1200
Trumpeter / 800 / 1200
Mother Harlot / 1000 / 1800
CHAOS DEMONS
Lucky Datsue-ba / 30 / Plugin Not Available
Inexperienced Ganga / 30 / Plugin Not Available
Inexperienced Decarabia / 50 / Plugin Not Available
Inexperienced Yaksini / 50 / Plugin Not Available
Vasuki / 100 / 600
Kartikeya / 150 / 800
Tzitzimitl / 400 / 1100
Astaroth / 500 / 1200
Azazel / 500 / 1200
Beelzebub (Human) / 500 / 1200
Mara / 700 / 1400
Ananta / 800 / 1500
Beelzebub (Fly) / 1000 / 1800
Shiva / 1000 / 1800
ITEMS
DieHard - 5
DieHard (Demon) - 5
Angel Trumpet - 200
Stradivari - 200
Bell of Death - 200
Maga-Dama (Soul Stone, Ring) - 666
Iron Cage of the Underworld (Soul Stone, Face) - 666
Crown of the Seven Hills (Soul Stone, Head) - 666
Angel's Music (Soul Stone, Weapon) - 666
Devil's Music (Soul Stone, Weapon) - 666
Shining Wings of Heaven DT - 666
Interrupted Light of Dawn DT - 666
Jewel Boxes contain one random jewel. They stack up to 100 and need to be opened one-by-one, so either clear your inventory and open them in SR or find a secluded place so you don't kill everyone's eardrums with the obnoxious bouncy-box SFX!
Premium Boxes are the RNG reward - they include one possible reward from this list of yumminess:
Stack of 10-20 Random Gems (This is your most likely reward; be prepared to receive this most of the time)
One Large Runestone (Also relatively common)
Stack of 3 Masakadus (Getting into the rarer items now)
VA Chip
Spell of Fortune Box (Upon opening, you will have a 1 minute timeframe to spam open this box as much as possible; it will give a random amount of macca per use)
Rare Demon Crystal (Possibilities include Mother Harlot, Shiva, Vishnu, Michael, Beelzebub Fly, Beelzebub Human, Ananta)
Rare Summon PG (INCREDIBLY RARE and possible PGs are Vishnu, Mada, Michael, Metatron, Seven Stars of Death Beiji Weng, Yamatano-Orochi, Jeanne D'Arc, Trumpeter, Mother Harlot, Shiva, Astaroth, Mara (both Chariot and Amorphous), Beelzebub (Fly), and Ananta)
This is a Premium Box:
Like the Jewel Boxes, if you're opening many of these, please be kind to everyone's ears and do it somewhere secluded as they also produce that annoying bounce noise.
OTHER WAYS TO USE YOUR SECRET ROOM PASSES


As mentioned earlier, you can also skip the run entirely and simply trade in the passes themselves for certain things.
This exchange is done at the same Innocent NPC who starts the runs, but if you click his other options you can see what else he has to offer:
Exchanging the passes for cards directly nets you just the Congratulation Card without a fight. No XP or loot chest rewards. You can exchange both normal and non-trade SR passes this way.
The other option is to trade your SR passes for Soul Points. You cannot exchange non-trade SR passes for SP. The SP is also given directly to the demon you have summoned, so make sure you have your intended target summoned and ready.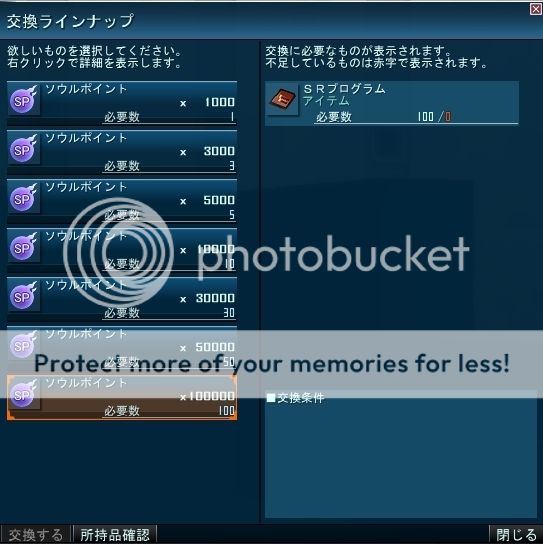 I haven't tried to overload SP because I'm not that masochistic, but he does give some sort of warning about the 100k SP limit, so I assume that if you overshoot, any extra SP will vanish. So make sure that your demon has enough room in their SP counter before doing this!
That's It!
SR is badass and if you have the ability to do it, it's a great way to level, earn some rare demons and/or items, rebirth demons, and get some nice rewards in the process.
Successful CP milking tactic is successful! $_$