Post by denauli on Mar 15, 2014 7:00:48 GMT
Hello there fellow demon busters! This will be my first attempt at writing a guide to anything on MegaTen, so I hope it will be as clear and concise as possible. Let me know if anything needs to be clarified or updated!
So what are devil equipment/epitaph parts?
The devil equipment system was introduced on February 5, 2013. Epitaph parts allow your demons to temporarily use new demonic features. Each demon has four feature slots even when the demon itself has less than four features. Epitaph parts may be equipped on these empty slots. Some features can be quite helpful depending on your play style, and many can be obtained from dungeons and other players. Fortunately, you are able to get your first epitaph part early and relatively easily!
Devil Equipment Quest
Prerequisites: Act 2 must be completed
Begin by going to the Cathedral of Shadows in Home 3. Speak with the mater of the Cathedral and as him about work. Or, select the following option.
Then ask him about devil equipment (悪魔装備).
Proceed until you have accepted the quest. What he is asking for is an Incense of Adventure which is easy to get via Act rewards. Only one is needed to complete the quest. Report back to him using the same prompts listed above. If all is done well you will be rewarded with:
-6,000xp
-[putamen of training] Epitaph parts
Congratulations! You've just secured your very first epitaph part. With this item equipped your demon will earn an additional 5% experience points. Every little bit helps!
Equipping Epitaph Parts
Epitaph parts are simple to equip. Begin by opening both your inventory and demon status menus. Of course, switch to your demon's features tab.
Simply drag and drop the epitaph item onto a feature slot of your choosing. In the case of the example, Tam Lin, I will be selecting the fourth available slot.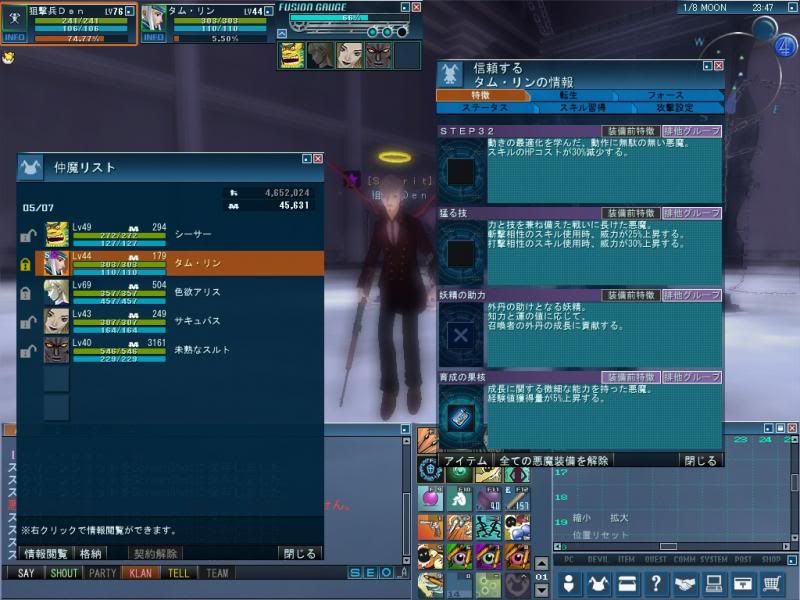 And there you have it. Tam Lin now has a feature which boosts his earned xp for as long as the epitaph part is equipped. Please take note that your demon is now locked on your demon list. More details about this status will be listed below. To remove an epitaph part, simply drag it from the demon menu back to your inventory.
Important to Remember
There are a couple rules to be aware of when using the devil equipment system.
1. It is possible to equip more than one epitaph to a demon provided the following exemptions:


- The epitaph parts cannot give the same benefits (i.e. same attribute boost, race-based damage boost, etc)




nor the same benefits as a natural demon feature (a demon with Flame Boost feature cannot also equip




Epitaph parts [flame] exaltation which also gives +50% fire boost). [Thanks Azu for explaining this~]





2. It may not be possible to replace certain features (i.e. inexperienced, earth mother assist)



3. Your demon must be summoned for epitaph parts to be equipped and unequipped.



4. Equipping a epitaph parts will automatically lock your demon.



- You will not be able to fuse, rebirth, or release a demon as long as it is locked.



Want to know more?
I hope that this is enough to teach the basics to players unfamiliar with this game mechanic. I will update this guide as needed since I'm sure something important may have been left out. I've considered including more information on epitaph parts, but I hesitate to begin that undertaking if the effort could be directed somewhere else.
For now,
PLEASE LOOK HERE
for more information on epitaph parts including their effects and where they can be obtained.
In any case, please let me know if I can do anything else to help!